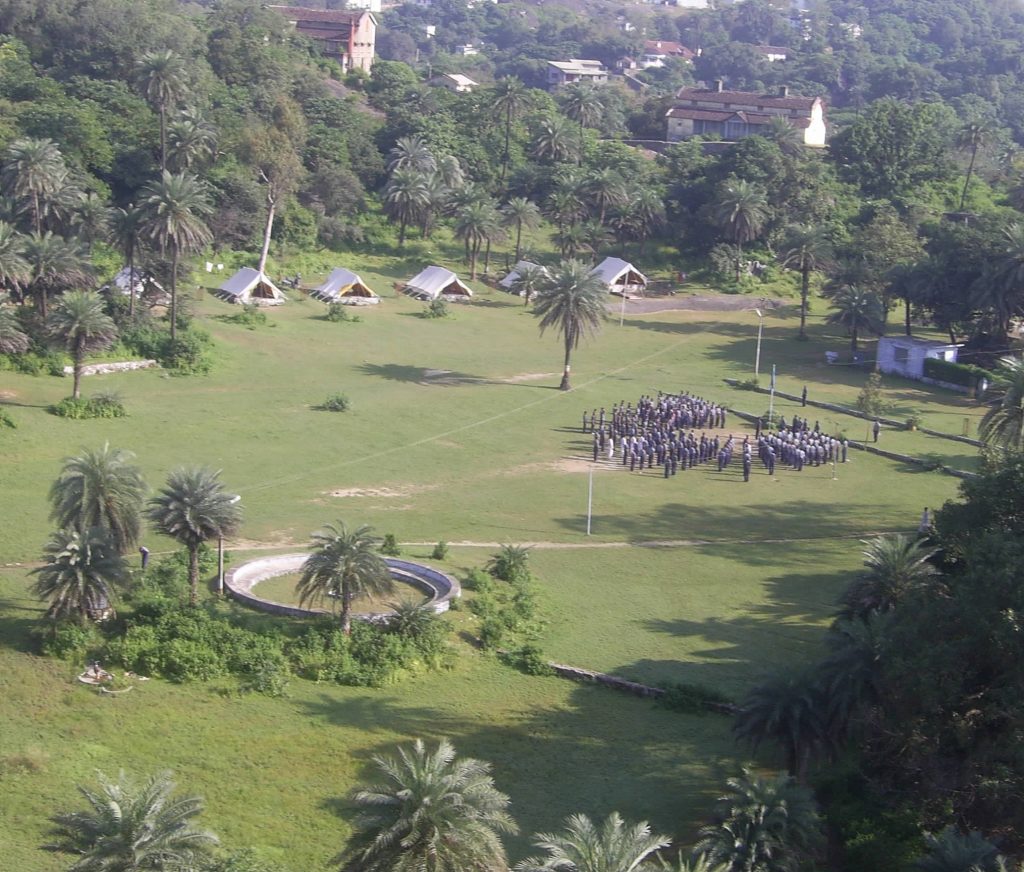 State Training and Adventure Centre is situated at Mt Abu. Mount Abu is the only hill station in Rajasthan and is a very popular resort, bordering the State of Gujarat. It is also a place for pilgrimage as the famous Delwara Jain temples are located here. Mount Abu is having a natural forest of palm, date, mango, bamboo and coniferous trees. The flowering shrubs creating the effect of the wild garden. The highest peak of Aravali range Guru Shikhar is the ultimate destination to Mt. Abu. State Training & adventure Centre is located in a beautiful green valley surrounded by palm  &  Mango  Trees.  This valley previously was called the municipal golf course. Now it is well known as scout guide camping ground. This camping centre is situated in the heart of Mount Abu. The Distances of all common places are very short. Central bus stand 1 km., market 1.5 km., Nakki Lake 2 km and the famous Delwara Jain temples are 4 km far from the camping CENTRE. Camping is a good experience at this training centre.
ACCOMMODATION:
Training hall – 30'x50′                                     01
Guest Room with attached toilet                   01
Platforms                                                       20
Double fly Tents with Jute carpet                 50
Patrol kits                                                      30
Staff huts (Pacca construction)                    02 (The Bharti & Ujagar huts)
Constructed by our veteran  Guide leader Miss  Shanti  Bhandari  & Miss  M. Grewal.
FLAG AREA:
Two flag areas are available.
CAMPFIRE  CIRCLE & SESSION CIRCLE:
One campfire circle and five ( Milan, chetana, Vishnu, dolman & Mehta slats) session circle.
DRINKING WATER:
1.) By own tube well & overhead tank
2.) By municipal water supply
3.) Under ground water storage tank of about 10000 litres capacity.
FOOD & KITCHEN:
One well equipped modern kitchen with dining space.
STORE:
Three stores are available.
SANITATION:
Toilet blocks (well furnished with ceramic tiles). 3 Blocks four-bath & four WC.
ELECTRICITY:
Lights for tents & ground.
MEDICAL FACILITIES:
Two Hospitals (1 Govt. Hospital, 2 Global Hospital- Charitable, run by Prajapati Brahama Kumaries)
MARKET FACILITIES:
Distance from the market area is about 1.5 Km.
PLACE OF TOURIST INTEREST:
Nakki Lake, Sunset Point, Delwara Jain Temple, Achalgarh, Guru Shikhar, Gaumukh etc.
HOW TO REACH:
Nearby railway station is Abu road. It is on Ahmedabad- Delhi railway route. Abu is 30 km away from this railway station. STC buses are available within 30  minutes frequency,  Jeeps are also available from outside the  Railway- Station, Bus stand is located on Mt. Abu road at the distance of 1/2 Km. from Railway Station.
CAMPSITE GOUMUKH ROAD, MOUNT ABU:
The second beautiful campsite is situated on Goumukh road. This is divisional camping centre of  Jodhpur  Division. It is located at the deep forest.  It is generally used for adult training. This camping centre can accommodate upto150 persons. It is also used for Night & Wild camping for adventure activities.
STATE ADVENTURE INSTITUTE:
It was founded in 2000. There is one Adventure Programme organized from 24th to 30th of every month except May & June. The list of adventure and challenging activities have attracted youth.
Contact:
Shri Jitendra Bhati
Circle Organizer
Mob. +91-8003097176